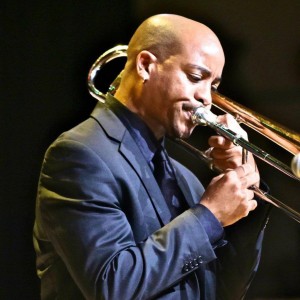 Born on the island of Dominica and raised on St. Thomas, USVI, trombonist Reginald Cyntje has been mixing cultural heritage with Black American Music since the beginning of his formative years. Growing up in the US Virgin Islands (USVI), he was steeped in the rich cultural music known as Quelbe (the official music of the USVI).
Quelbe was Reginald's introduction to improvised music. One of his favorite Quelbe songs, Queen Mary, has a powerful message set to syncopated rhythm. This song sets the tone for his mission as a musician – to inspire change with music.
With cultural heritage at the forefront and social justice as the message, this passionate performer has "a deep-seated knowledge of Caribbean music and culture which has settled into his jazz trombone playing" (NPR Music).
 On April 22, 2014 (Earth Day), Reginald Cyntje released his third album Elements of Life featuring pianist Allyn Johnson, bassist Herman Burney, drummer Amin Gumbs, vocalist Christie Dashiell, steel panist Victor Provost and saxophonist Brian Settles. The album explores the connection between the human being and the elements that nurture us.
 In 2013, Cyntje released his sophomore album simply titledLove. The Washington City Paper said Love "is thoughtful and surpassingly gorgeous." After debuting at #3 on the CMJ Jazz chart, Love made it to #10 on the CMJ Top 40 Jazz Chart. The album is a tribute to the human spirit.
As a trombonist, educator and activist, Reginald has performed with great musicians including Amiri Baraka, Dr. Billy Taylor, Illinois Jacquet, Martha Reeves and the Vandellas, Gary Thomas, Dion Parson and the 21st Century Band, Nicholas Payton, Ron Blake, Sean Jones, Terrell Stafford, Larry Willis and many others. After sharing the stage with his mentors for many years, Reginald finally released his highly anticipated debut album Freedom's Children: The Celebration in August of 2011.
On his recordings, you can hear the sounds of calypso, reggae, and other African influenced genres which now give his music a unique flavor.
Reginald Cyntje, "blessed with impressive facility and an immediacy of sound" now resides in the Washington DC area (The Independent Ear). Capital Bop views him as "arguably D.C.'s most agile and expressive trombone player."
The concept of his music ministry is to spread love, peace and social justice with each expression.
Reginald is a graduate of the University of the District of Columbia and is currently working on his master's degree at the University of Maryland (expected spring 2015). He teaches trombone privately, conducts workshops nationally and is an adjunct professor at Montgomery College.