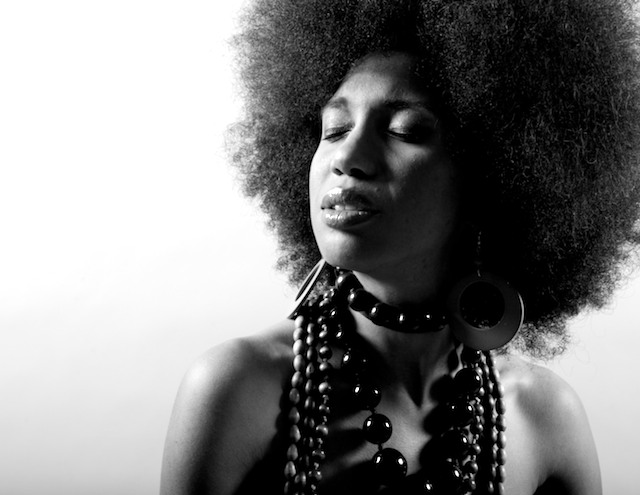 Alison Crockett will perform at 8:00 pm on January 18th at Union Arts! She will be joined by Herman Burney and will perform excerpts from her one woman show, "Is this it? My American Dream." 
THE TINY WOMAN WITH THE HUGE VOICE
Alison Crockett has paid her musical "dues" in full… She is perhaps the quintessential nu jazz/progressive soul singer of her generation and yet you may not have heard of her – – but you've no doubt heard her voice… On seminal recordings by King Britt, Blue Six, Us3, Landslide, John Wicks, Mathematics and a whole host of others, Alison's voice has provided the velvety, sensual sound of tomorrow's yesterday's…a captivating tone which evokes both the music of the past and that yet to come. A voice
dripping soul with generous helpings of jazz, gospel and blue, Alison has taken the baton from divas of the present and past such as Lizz Wright, Rachelle Farrelle, Erykah Badu, Jill Scott, Donna Summer, Diana
Ross and Sarah Vaughn and forged a uniquely personal and singular musical vision.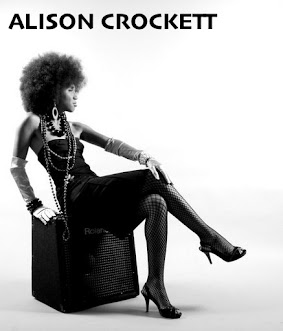 Alison decided early in her life to pursue a music career. Piano was her first love. "It just called to me. I still feel like a pianist who sings." However after winning several local vocal talent showcases during her high school years, it quickly became apparent that her voice was a rare gift. Alison honed her vocal skills at Temple University in Philadelphia, PA and then a masters degree at the prestigious Manhattan School of Music in New York City. As she says, "I set out to be a craftsman; someone who could mold and shape music like sculpture." Upon graduating, she settled in Philadelphia, where she met superstar DJ/producer King Britt (formerly of Digable Planets.) Britt summarily gave Alison the nickname "Diva Blue" and together they recorded the classic, "Season's Change" for his groundbreaking Sylk 130 album, "When the Funk Hits the Fan" (Ovum/Sony Music). She was also featured on four other genre bending tracks on the album including the single, "Gettin' Into It". Billboard Magazine loved her "throaty, diva-styled vocals." After touring the US as a member of Sylk 130, Alison relocated to Brooklyn, NY, where she introduced herself to the vibrant New York music scene by fronting hip hop/jazz pioneer Greg Osby's band. Only a few months later she was approached by Geoff Wilkenson, founder of the pioneering UK based acid jazz outfit Us3 (best known for their 1994 world-wide smash "Flip Fantasia (Biddy Biddy Bop)" ) who'd heard "Season's Change" and became convinced he was hearing a young legend on the order of his heroes Shirley Bassey, Dianna Washington and Dianne Reeves. In this pre-You Tube, pre-Facebook era, Wilkenson had embarked upon a feverish, months long search to track Alison down and request that she became Us3's first lead singer. Upon her acceptance, Alison traveled to London to write and sang on the album "An Ordinary Day in an Unusual Place". The first single, "Get Out", immediately shot to the top 10 within a few weeks of its release in Japan. In support of the album, Alison experienced her first world tour, as Us3 headlined stadiums and festivals throughout Europe, the US and Japan.
Throughout her tenure with Us3, Alison continued to write, perform and record on a number of interesting musical projects, always looking to grow and remain fresh. To distinguish these side projects, she often recorded under her Sylk 130 pseudonym, Diva Blue. Under the Diva Blue moniker, a 4-song EP enttitled "Azure" was released during the summer of 2001 on the Brooklyn based Soulhead Recordings. The lead track off of "Azure", an early version of the breakbeat influenced track "Alive", began to create a buzz on DJ mix shows and in clubs throughout Europe. Almost overwhelmed by the response to the track and near bursting with creative energy and song ideas, Alison could hardly wait to begin working on a project which would showcase the new music she was writing. Her debut solo album, "On Becoming A Woman", was released to wide acclaim in Japan in June 2003 and in the US and Europe in April 2004. The epic ballad from the album "Like Rain" reached number 3 on Gilles Peterson's Worldwide Winner's 2003 chart on his legendary BBC Radio 1 programme. Alison knew she'd tapped into something special with the album, "I really thought long and hard about this music…agonized over it…it was truly a birth-like experience and that's why I named the album "On Becoming A Woman"…I feel like I grew in leaps in bounds as both an artist and a person making it…" In 2006 Alison released a collection of remixes based on tracks from "On Becoming A Woman" entitled "The Return Of Diva Blue: On Becoming A Woman Redux"(Sol Image/Village Again/Groove). Featuring mixes by a who's who of top flight DJ producers: DJ Spinna, Yam Who?, Phil Asher, Mark De Clive-Lowe, Waiwan, Landslide and more, the album became a treasure trove for lovers of deep house music, with DJ Spinna's take on the song "Crossroads" becoming a signature classic for Alison. In the spring of 2007, Alison released her "love letter to my fans", the stripped down, acoustic based "Bare". Much of the album comprised of Alison simply sitting at the piano and singing songs from a backlog of compositions from a particularly prolific period of writing. "There are songs on "Bare" that could be placed on no other album," she said. "Some had been in my catalog, unheard by anyone but me, for many years. I wanted "Bare" to be a record that you could just sit back, listen and enjoy, while you let all your cares melt away for a short while…"
After taking an extended break from recording in order to focus on mothering her two children, in 2008 Alison returned to the recording studio to work on what would become, "Mommy, What's A Depression?", her third solo album of original material. Says Alison, "When I began working on this project in earnest, it was during the heart of the financial crisis in the US, and it seemed as if the world was going to hell in a hand basket…George W. Bush was still the president and most people felt as if he'd run the country into the ground, from starting unnecessary wars, to being negligent during the crisis in New Orleans, to enacting policies which almost caused the collapse of the global economy. So I thought about creating a work of art to reflect the chaos and disorientation I, and many people around me, where feeling at the time." It would take Alison more than three years to bring her vision to reality, as she and her brother fine-tuned the production to ensure the sonic tapestry was just right. " A mixture of jazz, soul and electronic music seemed to me the best way to give these messages the weight of the moment. Each of these music forms is all about creative destruction and re-invention, a process it seems we are going through right now. So I call the sonic style we've come up with, "Mixtape Jazz"; it's the sound of taking the familiar and shaping layers and layers of seemingly disparate and sometimes even dissonant components onto it in order to fashion new creative textures. I arranged standard songs from the jazz and soul cannons that seemed to speak to our national and societal condition and, to compliment these, wrote music and lyrics that reflected my own feelings of anger, frustration, bitterness and hope about what's been going on around me."
And so with the release of "Mommy, What's A Depression?" the next chapter in Alison's musical journey begins. As with all of the music she's released during a career which has grown to span a generation, her newest songs take risks, challenge preconceptions, push her art form powerfully forward. For this is the essence of who Alison Crockett is as an artist: A fearless musical traveler boldly projecting her inimitable voice into the sonic future.