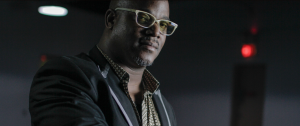 Tarus Mateen will be performing with the Jazz and Freedom Quartet on Saturday, January 14th, 2017 from 9:10 – 10:00 pm at Tropicalia.
Bio taken from: http://www.tarusmateen.com/
ABOUT TARUS
Tommy Hilfiger. Monica. Betty Carter. Common. Terence Blanchard. Outkast. Goodie Mob. Korn. Bernard Purdie. The Roots. Sly and Robbie. Jason Moran. Speech. Ice Cube. Milt Jackson. George Benson. Joe Clausell. Marc Cary. Sean "Puffy" Combs. Christina Aguilera.
What reads like the front-row seating arrangement at a previous year's Grammy award show is actually a partial membership list of a very elite group. Members of this group have received international acclaim for their contributions to popular culture and music. They have transformed the way we envision, appreciate, play, and hear music. All superstars in their own right, each member of this group sought the light of Tarus Mateen so that they could shine their brightest.
Tarus's creative genius and mastery of acoustic bass, electric bass, rhythm guitar, and piano make him one of the most sought-after musician/producers in hip-hop, house, blues, rock, reggae, soul, and straight ahead jazz. He is quite possibly the only musician to receive critical acclaim in all these musical genres at once. Since 1996, there has not been a Top 10 jazz album that didn't feature Tarus Mateen. This is a phenomenal feat for any artist, certainly for one of only 48 years in age.
Tarus began his journey as a professional musician with his two older brothers Roy (drums) and Radji (sax) who toured Jamaica with their group, opening for Freddie Mc Gregregor, as well as Judy Mowatt, formally with the Itrees backup for Bob Marley. By the time Tarus was a teenager, he was a studio musician for some of California's early rappers and had toured nationally with his brothers.
In 1985 Tarus moved to Atlanta, Georgia to attend Morehouse College, majoring in Music. Setting the local club circuit on fire, Tarus sharpened his skills on both the upright and electric bass. While playing in Savannah, Georgia, Art Blakey encouraged Tarus to move to New York and join his band at the recommendation of front liners Javon Jackson and Philip Harper.
Upon arriving in New York in 1988, Tarus landed a new artist's dream gig – a one and a half-year stint with legendary jazz master Betty Carter, with whom he recorded a Grammy nominated CD. Touring in Europe and Asia with Ms. Carter afforded him an incredible experience, as well as life long lessons. The cumbersome size of the upright bass made it impossible to keep one on hand for part of the tour. So, at each stop on the tour, Tarus met a new bass. Ms. Carter responded, "It's not the bass, dear, it's the bassist." At this instant, he recommitted himself to artistic mastery.
It is this early commitment to mastering his craft to which Tarus remains true. Known in the jazz world as a genius on bass, his first instrument was actually the piano. A consummate artist, Tarus isn't afraid to explore any musical genre. His repertoire says it all. Two of hip hop's shining southern stars, groups Outkast and Goodie Mob, can credit their critical acclaim, and platinum commercial success with Tarus's contributions to their albums. He is consistently requested for performances and studio sessions with R&B and hip hop artists including Q-Tip, Lauryn Hill, Ghostface, Ice Cube and The Roots. Tarus was the bassist of choice for Lauryn Hill in 2002 to jumpstart her studio performances.
Tarus has also made his mark on film with trumpeter/composer Terence Blanchard on the scores for Sugar Hill, and for the Spike Lee film Malcolm X, as well as the Grammy nominated Malcolm X Jazz Suite. Tarus's original score for the upcoming documentary film, King George: a King Runs for President, about George Weah an international soccer star, is gaining pre-screening momentum in Hollywood. As well as having featured music on RFK Goes to South Africa a documentary about Robert F. Kennedy fighting Apartied.
Playing as part of a new generation of jazz crusaders, with award winning artists such as Jason Moran, Nasheet Waits, Marc Cary and Roy Hargrove, Tarus is the world's bestbassist. There's no doubt that blowing up the music world would keep even the most talented musician busy.
Tarus performs and records most regularly with pianist. , Jason Moran He also worked with vibraphonist Stefon Harris, as well as the New Directions band, which includes, Greg Osby and Mark Shim. In 2000, along with drummer Nasheet Waits, he appeared on two stellar piano trio albums: Marc Cary's Trillium and Jason Moran's Facing Left.
Tarus is due to release his first and long awaited artistic statment "Arising Saints"The Art of Solo, in May as well as his production on Brittany Tanner's new CD.Riding on a grammy nomination, this year looks promising to say the least. Stay on board and enjoy the rise.