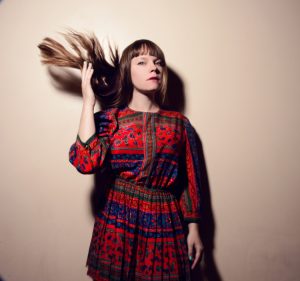 Janel Leppin will perform for the Jazz and Freedom Festival on Saturday, January 14th, from 6:50 – 7:40 pm at Tropicalia.
Janel Leppin Bio (source: http://janelleppin.com/bio/)
With a musical style as unique as it is captivating, cellist, vocalist and composer Janel Leppin is a highly developed, innovative artist. Through intense devotion to craft, Janel fuses flawless technicality with boundless, creativity moving far beyond the conventions of her instruments to make music which exists in unchartered sonic territories.
Born and raised in Vienna, Virginia, Janel has spent over 20 years studying and performing classical repertoire on cello and studying voice. Janel's hard work, virtuosity and proximity to Washington D.C. afforded her the opportunity to study with members of the National Symphony Orchestra throughout high school and college. Working with notable musicians such as Loran Stephenson (NSO) and Diana Fish (The National Gallery Orchestra and The White House Quarter), Janel's skills developed enough to become Assistant Principal of the American Youth Philharmonic. There, she played among the most talented players in the Washington Metropolitan Area. After years of performance, Janel's desire for musical growth and expansion coupled with disillusionment with the culture of classical music led her to pursue other means of nurturing and expressing her voice.
Janel's search for new means of musical expression led her to Indian classical music. Studying in both Delhi, India (2009) and Amsterdam, the Netherlands (2004), she worked within the famed Maihar Gharana school of Hindustani classical music. The Maihar Gharana is responsible for making Indian classical music popular in Europe and America. It includes master sarod player Baba Allauddin Khan, who was the school's primary teacher. Khan taught surbahar master Annapurna Devi, bansuri master Hariprasad Chaurasia and famed sitar master Ravi Shankar, who taught The Beatles. The time spent studying World Music was integral to Janel's development and the shaping of her voice as it exposed her to more complex music styles and eclectic instrumentation.
Janel studied the North Indian Cello with her teacher Saskia Rao de Haas who who had developed a modified cello which incorporates eight resonant strings.  Janel bought Rao de Haas's first model of the cello after her first Hindustani classical music study period in the Netherlands in 2004.  Since then she has performed and recorded with the instrument live and on several recordings including on Rose Windows Sun Dogs (Sub Pop) and Eyvind Kang's Visible Breathe on "Thick Tarragon" (Editions Mego Ideologic Organ). It is one of only two modified cellos like it in the world.  She received a scholarship to present the North Indian Cello as a new instrument at the American Musical Instrument Society in 2005.
Deepening her interest in the music of the Middle East, Janel was hired to perform with a Persian classical orchestra called the Chakavak Ensemble during her study at George Mason University starting in 2003. In years of intensive preparations for these complex performances, Janel deepened her understanding of and appreciation for Persian classical music. She even learned how to sing ancient Persian poetry and ornamentation before playing them on the cello by studying with renowned ney player Dr. Hossein Omoumi in 2012. This study broadened Janel's musical approach and vocal style. Today, she continues playing music in this genre, collaborating with master composer and tar player Dr. Nader Majd, who runs the School for Persian Classical Studies in Washington D.C. and recording and performing in small and large ensembles. Janel has emerged as one of the few cellists in the world who plays both Persian classical music Indian Classical music.
During her time at George Mason University, Janel studied with koto master Kyoko Okamoto.  Learning Japanese classical technique on the koto opened up Janel's interest in playing multiple instruments.  This has proven important for her recordings with Janel and Anthony as well as her solo record Mellow Diamond and Songs for Voice and Mellotron.
After performing in these traditions she set her sites on expanding her musical horizons through improvisation. While many musicians approach improvisation with a jazz influence, Janel's eclectic world music background and temperament give her improvisations an original harmonic and melodic sensibility. Her proficiency on the cello results in playing marked by clear and precise phrasing as she effortlessly incorporates many different styles and approaches into her performances. She has developed a unique and spellbinding approach to improvisation, which she has been invited to perform at multiple festivals worldwide.
  In 2002, Janel began collaborating creatively with guitarist Anthony Pirog and her interest in improvisation intensified. She studied more conventional traditions of improvised music including bebop. Working, performing and recording with Pirog under the moniker Janel and Anthony, the two have played hundreds of shows and released two albums, selling thousands of copies. Their self titled record was rereleased as a fifth anniversary vinyl edition by D.C. hardcore label Cricket Cemetary.  The duo's most recent record, Where is Home is critically acclaimed and available on Cuneiform Records.
Janel's diverse musical interests, innovations and virtuosic ability have caught the attention of dozens of celebrated artists with whom she has had the collaborated. Some of these collaborators include Eyvind Kang, ethereal string player and composer; Oren Ambarchi, minimalistic guitarist and electronic composer; Marissa Nadler, gothic americana songwriter, vocalist and guitarist; Kyp Malone, psychedelic songwriter, singer and guitarist for TV on the Radio; Susan Alcorn, the legendary pedal steel player and composer; Skuli Sverrison, master bassist and composer; Gino Robair, innovative percussionist and electronic musician; and Randall Dunn, master producer and engineer. Because of her expertise and proficiency, Janel has recorded and performed with some of the most highly respected musicians in the world. She has appeared on albums for Touch, Sub Pop, Cuneiform, Tzadik and Editions Mego Ideologic Organ, Tompkins Square and many others. In addition to recordings, Janel is an active participant in the experimental music community, and when she isn't touring internationally, she plays in a multitude of groups in Washington D.C. and up and down the east coast.
While she has much experience as a member of ensembles, Janel also has much experience leading ensembles. Two of these ensembles, The Janel Leppin Group and Ensemble Volcanic Ash include such diverse instruments as harp, bassoon, cello and saxophone. Ensemble Volcanic Ash made its debut at the Washington Women in Jazz Festival headlining a sold out concert at legendary D.C. jazz club, Bohemian Caverns. The group also headlined at the 2013 Sonic Circuits Festival of Experimental Music and completed a successful residency at the famed Twins Jazz in May 2014.
Janel Leppin's career is marked by performances at experimental music festivals. She has performed in every Sonic Circuits Festival since 2006 and she was the first Washington D.C. musician to be invited to the High Zero Festival, an international experimental music festival in Baltimore, MD. Additionally, Janel has performed at Skanu Mezs in Riga, Latvia, Flow Festival in Helsinki, End of the Road Festival in the UK and Way Out West Festival in Goteborg, Sweden. In the Spring of 2014, Janel began touring and collaborating with Marissa Nadler for whom she sings harmony vocals, plays synthesizer and cello with electronics live in duo formation internationally.
Though she keeps quite busy performing and leading touring ensembles, Janel's musical expression goes beyond performing. In 2012, she was called to work as curator for the Issue Project Room as part of Susan Alcorn's residency. Leppin selected a group of world class musicians with whom she rehearsed her own arrangements of Alcorn's music. The project culminated with a concert at the Issue Project Room on May 31, 2012. In 2013, The Sonic Circuits Festival also used Janel as a curator for San Francisco based composer Gino Robair's improvised opera, I Norton, which was performed at The Kennedy Center's Millennium Stage as part of the festival. She also joined Eyvind Kang as a cellist in several of his ensembles during his residency at The Stone in New York City during July of 2013.
Janel keeps busy recording music, too. Currently, she's working on an album of Classical Music, playing works by Villa-Lobos with soprano Meghan Whittier. Her group Ensemble Volcanic Ash has begun work on an album featuring her original compositions and her duo Janel and Anthony has begun working on a third album. Janel is also recording an album of turntablism, exploring her work in the realm of musique concrete, which has been a hallmark of many of her solo performances.
Amidst her many collaborations, Janel knows an artist has to make time for her solo work. For many years she has performed solo projects, often utilizing several instruments, record players and dozens of effects pedals to shape the sound of her performances. In 2012, Janel began work on a solo project which is very dear to her. She recorded an album of vocal and instrumental works with master engineer Mike Reina at The Brink Analog Studio in Virginia. Then, working with mixing engineer Randall Dunn, she recorded additional tracks and mixed the album before sending it to Jason Ward at Chicago Mastering Services for mastering.  The album incorporates Leppin's technical proficiency across a wide range of instruments, myriad stylistic influences and her voice to create a sound unique to Janel as a soloist, a sound representing Janel Leppin's next steps as a truly innovative artist.