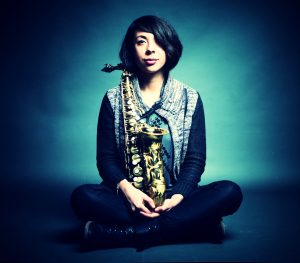 Photo cred to Diriki Rice
Sarah Hughes will be playing with the Jazz and Freedom Quartet on Saturday, January 14th from 9:10 – 10:00 PM at Tropicalia.
Sarah Hughes Bio
Taken from: http://www.sarahmariehughes.com/bio/
Sarah Hughes is an alto saxophonist, composer, improviser, educator, and art adventurer hailing from Maryland. She obtained her MM in Jazz Saxophone at the New England Conservatory in May of 2015 and currently freelances in and around Maryland, DC, Virginia, and New York.
Sarah graduated with a bachelor's degree in music education from the University of Maryland in 2008. While there she studied privately with world-renowned classical saxophonist Dale Underwood. After graduating Sarah taught beginning band and strings in Prince George's county schools for five years and also maintained two private studios in Maryland and Virginia. During that time she performed in and around DC and New York City with ensembles including the Bohemian Caverns Jazz Orchestra and the Brad Linde Ensemble, a Washington D.C.-based collective dedicated to exploring and expanding the styles of jazz that emerged in the 1950s including bebop, cool jazz, third stream, and free jazz. As part of these ensembles, Sarah shared the stage with jazz greats such as Lee Konitz, Ted Brown, Freddie Redd, Matt Wilson, and Michael Formanek.
While at the New England Conservatory, Sarah studied privately with Jerry Bergonzi, Ran Blake, Donny McCaslin, and Anthony Coleman, all of whom impacted Sarah's unique approach to improvisation and music-making. Sarah performed on Coleman's latest album, "You" and has performed with Coleman in concerts at the New England Conservatory as well as Roulette and The Stone in New York. Sarah studied composition in classes with Ken Schaphorst and also Ben Schwendener, with whom she has performed several duo concerts in Boston.
In September of 2015 Sarah toured Sweden as part of Amy K. Bormet's "Ephemera" and performed in Sweden's first Women in Jazz festival. She also recently taught an improvisation workshop, "Improvisation for Everyone: Games and Storytelling" for beginning, intermediate, and advanced instrumentalists in the 2016 Judith Lapple Summer Woodwind Camp in Fairfax, Virginia. Most recently, she went on tour with an improvising trio "Lead Bubbles", playing venues in New York, Montreal, and Toronto. Sarah hopes her music and teaching will continue to introduce her to new people, places, and art.