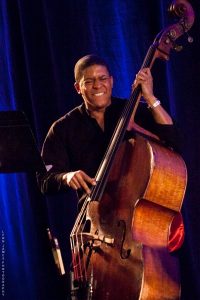 Zack Pride will be playing bass with Akua Allrich on Saturday, Jan 14, from 5:40 – 6:30 at Tropicalia.
Although he started playing violin at age seven, he learned music from watching his mother playing organ during church choir rehearsals. After being introduced to the church bassist, he immediately made the switch.
He went on to attend Oberlin Conservatory where he was introduced to jazz. He has never looked back. Since then, he spent time under the tutelage of such masters as: Buster Williams, Ray Brown, Lonnie Plaxico, Matthew Garrison, Peter Washington, and Rufus Reid. Rufus was so impressed with Zack's talent that he suggested he perform for the memorial service of the late great Milt "The Judge" Hinton.
Zack later performed with the Winard Harper Trio, making history by accompanying Dave Chappelle for the first stand-up comedy performance at Carnegie Hall. To name a few of the artist he's shared the stage with are: Takana Miyamoto, Kirk Whalum, Daniel Ho, George Cables, Cyrus Chestnut, Rene Marie, Jimmy Ponder, Charles Davis, Russell Gunn, Eric Reed, Donald Smith, Wycliffe Gordon, Lizz Wright, Carrie Smith, Mark Murphy, Marcus Printup, Mark Whitfield, Stefon Harris, Freddy Cole, and Johnny O'Neal.