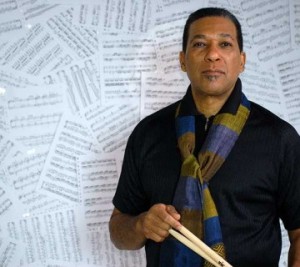 Photo Credits Elle Lowe
Drummer and Composer Nasar Abadey is the founder, leader and driving force of SUPERNOVA®.  They perform music from the threshold of Jazz to beyond space and time, while having an artistic license to express their compositions through traditional African rhythms, bebop, fusion, Afro-Cuban, Afro Brazilian, modal and free form. The band's musical inspirations include, but are not limited to, John Coltrane, Miles Davis, Wayne Shorter, Duke Ellington, Dizzy Gillespie and many more.  Based in Washington, DC Abadey has also built a solid reputation as a sideman with several groups, and has recorded and/or performed with many national artists throughout his career. Abadey began playing drums at age five, drawing influences from powerhouse drummers such as Tony Williams, Max Roach, Roy Haynes, Elvin Jones and his cousin Frankie Dunlop, to name a few. Nasar Abadey creates music which he refers to as Multi-D: multi-dimensional, multi-directional.
Nasar Abadey's band SUPERNOVA's® debut CD, Mirage was released on Amosaya Records, and his sophomore CD Diamond In The Rough was released on DPC Records in 2011. Most recently SUPERNOVA® was selected by the US State Department and the Lincoln Center as Ambassadors to tour with the American Music Abroad Rhythm Road. This one month tour took them to five (5) countries in East Africa; Rwanda, Uganda, Ethiopia, Zambia, and Mozambique. Abadey has performed with many jazz greats, and has appeared in various music festivals internationally. His credits include: Amiri Baraka, Dizzy Gillespie, Charlie Rouse, Gary Bartz, David Sanchez, Cyrus Chestnut, Gregory Porter, Sonny Fortune, Ella Fitzgerald, Eartha Kitt, Kenny Kirkland, Gary Thomas, Stanley Turrentine, Sun Ra, Frank Morgan, Bobby Hutcherson, Pharaoh Sanders, Russell Malone, Malachi Thompson, Andrew White, among others. Based in Washington, DC Abadey has also built a solid reputation as a sideman with several groups, and has recorded and/or performed with many national artists throughout his career.
Mr. Abadey's Eleven Piece (11) piece SUPERNOVA® Chamber Orchestra, which includes strings, was invited by Jason Moran to the Kennedy Center's Millennium Stage to perform in recognition of International Jazz Appreciation Day, in April 2014.  Abadey's big band, the Washington Renaissance Orchestra premiered a concert at the historic Lincoln Theatre, in Washington, DC in June, 2013 as a tribute to African American Music Month. He often includes vocals with these ensembles, and is the founder and artistic director of both.  In 2013 Mr. Abadey was honored by the Strathmore Mansion Artist in Resident (AIR) to mentor vocalist, Integrity Reeves, and drummer, Isabelle DeLeon.
Additionally, he has appeared in various festivals including, San Remo (Italy), Montreal (Canada), Cap City (DC), Virgin Island (Caribbean), JVC (NYC), Morocco (Africa), Chicago Jazz Festival, Iowa City Jazz Festival, D.C. Loft Jazz Festival, Atlanta Jazz Festival, Mellon Bank Jazz Festival, (Philadelphia), The East Coast Jazz Festival, the Free World Jazz Festival (DC), International Children's Festival (Seattle), Guatemala City Jazz Festival, Duke Ellington Festival, DC Jazz Festival, Mid Atlantic Jazz Festival among others.
Currently Mr. Abadey is currently Professor of Jazz Percussion in the Jazz Studies department at the Peabody Institute of the Johns Hopkins University in Baltimore, MD.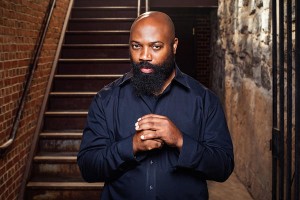 Native Washingtonian, ALLYN JOHNSON, is a multi-talented musician, composer, arranger and producer whose trademark sound gives brilliance and fortitude to the art of jazz improvisation. Allyn, a prodigy who began playing piano at the tender age of five, got his start playing piano for the youth choir in his uncle's church. There he honed his inner musical gift.
While a student at the University of the District of Columbia, Allyn was mentored by the late great jazz legend Calvin Jones, a venerable figure in the international jazz community. At UDC, Allyn was the first recipient of the Felix. E Grant Scholarship Award in jazz performance. He graduated magna cum laude from UDC in 1997 with a Bachelor of Music Degree in Jazz Studies. Now Allyn has served for more than six years as an adjunct professor of music and assistant director of the Jazz Studies program before succeeding Jones as the director in 2005.
Allyn hopes to continue Jones' rich legacy of service, musicianship and academic excellence. Allyn is one of the nation's most sought after musicians in the jazz community. He is revered by musical giants as well as the "young lions" of his generation. He was chosen for the highly competitive Betty Carter Jazz Ahead program in 2001 and returned to teach in the program in 2002. As a composer-arranger, he has a growing library of works for ensembles of varying sizes and instrumentation.
In 2005 Allyn started an ensemble combining Gospel, Jazz and Classical music called Divine Order. He also has a group called Sonic Sanctuary which may be heard as his trio or small ensemble which ranges from acoustic straight ahead jazz to jazz fusion and funk. No matter what configuration Allyn may be heard in, you can best believe it will be just "good music for the soul".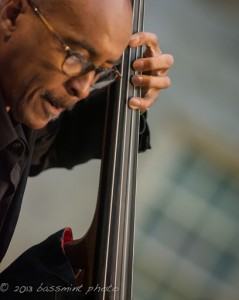 James King is an accomplished bassist whose musical career spans more than 40 years on both the national and international stages. King has lived and worked in Washington, DC since 1977, where he is currently a member of the Gary Bartz Quartet and the Smithsonian Jazz Masterworks Orchestra. He has performed with jazz greats including Ella Fitzgerald, Gary Bartz, Elvin Jones, Stanley Turrentine, Sonny Fortune,Cedar Walton, Buck Hill, Frank Morgan, David "Fathead" Newman, Arnett Cobb, Teddy Wilson, Milt Jackson, Bud Shank, James Moody, Ronnie Matthews, Junior Cook, Jon Hendriks, Mark Murphy, Kurt Elling, Vanessa Rubin, Rosanna Vitro, Giacomo Gates, Rebecca Parish, Melissa Walker, Mulgrew Miller, James Williams, Bruce Barth, Cyrus Chestnut, Regina Carter and Johnny O'Neal, among others. He has appeared at jazz festivals in the United States and Europe including Montreal, the North Sea and Pori. He has also performed at Lincoln Center's Dizzy Club, the Kennedy Center's Millennium Stage, KC Jazz Club and Terrace Theater. In addition to his performances, King has conducted clinics, participated in public school music programs, led his own group and composed a myriad of original compositions. He studied music at Texas Southern University, Hampton University and the University of the District of Columbia and originally hails from Houston, Texas.