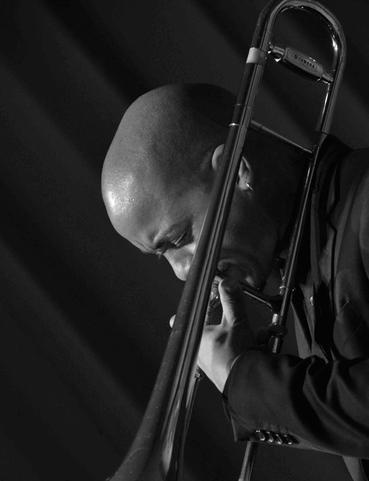 Born on the island of Dominica and raised on St. Thomas, USVI, trombonist Reginald Cyntje has been mixing cultural heritage with Black American Music since the beginning of his formative years.
Growing up in the US Virgin Islands (USVI), he was steeped in the rich cultural music known as Quelbe (the official music of the USVI).
Quelbe was Reginald's introduction to improvised music. One of his favorite Quelbe songs, Queen Mary, has a powerful message set to syncopated rhythm. This song sets the tone for his mission as a musician – to inspire change with music.
With cultural heritage at the forefront and social justice as the message, this passionate performer has "a deep-seated knowledge of Caribbean music and culture which has settled into his jazz trombone playing" (NPR Music).
After being featured on NPR's Jazz Night in America, Cyntje recorded his fourth album on February 10, 2015. Spiritual Awakening musically embodies humanity's complex journey from introspection to a celebration of freedom. Cyntje released Spiritual Awakening on May 4, 2015.
On April 22, 2014, Reginald Cyntje released his third albumElements of Life (Washington City Paper Recording of the Year) featuring pianist Allyn Johnson, bassist Herman Burney, drummer Amin Gumbs, vocalist Christie Dashiell, steel panist Victor Provost and saxophonist Brian Settles. The album explores the connection between the human being and the elements that nurture us.
In 2013, Cyntje released his sophomore album simply titledLove. The Washington City Paper said Love "is thoughtful and surpassingly gorgeous." After debuting at #3 on the CMJ Jazz chart, Love made it to #10 on the CMJ Top 40 Jazz Chart. The album is a tribute to the human spirit.
As a trombonist, educator and activist, Reginald has performed with great musicians. After sharing the stage with his mentors for many years, Reginald finally released his highly anticipated debut album Freedom's Children: The Celebration in August of 2011.
On his recordings, you can hear the sounds of calypso, reggae, and other African influenced genres which now give his music a unique flavor.
Reginald Cyntje, "blessed with impressive facility and an immediacy of sound" now resides in the Washington DC area (The Independent Ear). Capital Bop views him as "arguably D.C.'s most agile and expressive trombone player."
The concept of his music ministry is to spread love, peace and social justice with each expression.
Reginald is a graduate of the University of the District of Columbia and received his master's degree at the University of Maryland. He teaches trombone privately, conducts workshops nationally and is an adjunct professor at Montgomery College. Mr. Cyntje is also the founder and owner of Jegna School of Music, LLC.
Native Washingtonian, ALLYN JOHNSON, is a multi-talented musician, composer, arranger and producer whose trademark sound gives brilliance and fortitude to the art of jazz improvisation. Allyn, a prodigy who began playing piano at the tender age of five, got his start playing piano for the youth choir in his uncle's church. There he honed his inner musical gift.
While a student at the University of the District of Columbia, Allyn was mentored by the late great jazz legend Calvin Jones, a venerable figure in the international jazz community. At UDC, Allyn was the first recipient of the Felix. E Grant Scholarship Award in jazz performance. He graduated magna cum laude from UDC in 1997 with a Bachelor of Music Degree in Jazz Studies. Now Allyn has served for more than six years as an adjunct professor of music and assistant director of the Jazz Studies program before succeeding Jones as the director in 2005.
Allyn hopes to continue Jones' rich legacy of service, musicianship and academic excellence. Allyn is one of the nation's most sought after musicians in the jazz community. He is revered by musical giants as well as the "young lions" of his generation. He was chosen for the highly competitive Betty Carter Jazz Ahead program in 2001 and returned to teach in the program in 2002. As a composer-arranger, he has a growing library of works for ensembles of varying sizes and instrumentation.
In 2005 Allyn started an ensemble combining Gospel, Jazz and Classical music called Divine Order. He also has a group called Sonic Sanctuary which may be heard as his trio or small ensemble which ranges from acoustic straight ahead jazz to jazz fusion and funk. No matter what configuration Allyn may be heard in, you can best believe it will be just "good music for the soul".