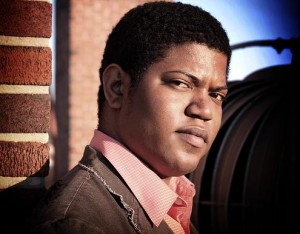 Samuel Prather is an exciting and multifaceted pianist, drummer, and vocalist born and raised in Washington DC. Sam has developed a reputation in the local music scene performing and producing with all types of acts. While clearly versed in Jazz, he's also fluent in the language of Funk, Gospel, Brazilian, Latin, NeoSoul, and dance music from around the world. His sophomore offering is Groove Orchestra which is an attempt to do to groove, what the great jazz orchestras of the Golden Age did for jazz. The 2012 Student Downbeat Award recipient graduated from the masters program at Howard University recently where he collaborated with it's award winning vocal group Afro Blue. That collaboration led to two of its vocalists Christie Dashiell and Micah Robinson, singing on his smooth duo arrangement of the Jackson 5 hit "I Wanna be Where You Are".
The DC area is full of talented players that might not be in the limelight as leaders, but populate the world's tour scene. Upright bassist Kris Funn (Kenny Garrett,Christian Scott), guitarist Samir Moulay (Macy Gray, Lonnie Liston Smith), and saxophonist Elijah Balbed (Larry Willis, Chuck Brown) are examples of that and anchor the powerhouse band on the record.
What this record sounds like is a band that occupies the intersection between Snarky Puppy, Robert Glasper, and the Joshua Redman Quartet. The barriers of jazz, funk, latin, brazilian, afrobeat, r&b, soul, hip hop, and modern gospel are all being broken by this band in a way that respects the traditions of the different styles without being confined by them.
James Brown fans should keep an ear out for "Blues for Clyde", a lively tribute to James Brown's iconic drummer with a modern twist. Neo soul fans are sure to love the D'Angelo and Stevie Wonder inspired "Time Flies". Another strong vocal performance is delivered by Shacara Rodgers on the ambitious reworking of Nancy Wilson's hit "Never Will I Marry". The band really takes center stage on the instrumental tribute to Snarky Puppy and Fela Kuti "Fela Snarky". The tune also gets a great guest performance on harmonica by Fred Yonnet (Prince, Stevie Wonder)
It would be easy for all these different genres to sound disjointed and arbitrary, but the consistently inspired arranging, and airtight performances by the band make it all seem like they always belonged together. This record sounds like nothing we've heard before, but at the same time feels extremely lived in because we grew up dancing to all the separate ingredients. In doing so, this record brings jazz back out from the concert hall and back to the people. Let's G.O.!