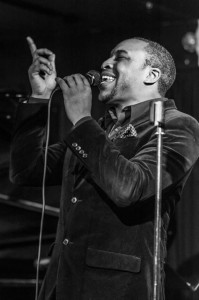 Photo credit Darwyn Dave
REformanceArtists is a new collective dedicated to promoting jazz within the DC business community.
Aaron Myers
Aaron Myers is a native Texan who began playing the piano at the age of 3. A veteran of the United States Army, where he also Played, Sang, Directed & Composed music; Aaron went on to Navarro College, majoring in Theatre and Business, where he was the musical director with the College Gospel Choir.
In 2005, Aaron relocated to Los Angeles, CA where he performed his comedy at many of the comedy clubs in Hollywood (The Laugh Factory, Ha Ha Cafe, The Comedy Store, Ice House). Musically he was the featured talent at the Fashion TV's 10 year Anniversary Party, and as a studio musician he composed/recorded the soundtrack for the film, "A Song and a Prayer". Not forgetting his roots, he worked as the musician for the Youth Department at West Angeles Church of God in Christ.
Aaron served as a field organizer for 9 months during the 2008 presidential campaign, working for the Obama/Biden Ticket. In December of the same year Aaron moved to Washington, DC to oversee the closing of the Global Family Program, acting as the last paid National Director.
While in DC, Aaron grew deep musical roots performing at major events in the nation's capital such as: 50th Anniversary of the Peace Corps, National Legal Aid & Defender Association 100th Anniversary, Rehearsing/Directing/Performing 100 Voice Choir at the World AIDS Conference, Various events at the French & Swiss Embassies, teaching music classes for the DC Summer Program, Teaching Master Jazz Performance Classes with students from Canada & France, performing at the Library of Congress and a featured artist for the Capital Jazz Festival for 3 concurrent years.
In May of 2013, Aaron Myers released the Video "What's a Man to Do" from his Debut Jazz/Neo Soul Album "Leo Rising" (released nationwide July 4th 2013) to critical acclaim. In July of 2013, Aaron Myers co-starred in the docu-musical, "My Civil War" for the Capital Fringe Festival, and starred in the play "God is not Through with me Yet" in August of 2014. On Septemeber 3rd Aaron sold out Blues Alley in Washington DC. His sophomore album "The Lions Den" is scheduled for release in 2015 followed by a tour.
Currently, Aaron Myers is the Minister of Music at Covenant Baptist United Church of Christ.