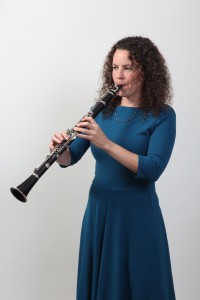 Mastering sound and mood, Halley Shoenberg is an accomplished saxophone and clarinet player whose style is collected from several sources of jazz, theatre and popular music. From swinging originals to noted modern-era favorites, her intelligently inspired brand of music shines with unique clarity.
A multi-instrumentalist who plays clarinet, saxophone and flute, Shoenberg has produced three CD releases, Love Goes 'Round, Someday, and Private Concert which include several of her original compositions. A native of Silver Spring, Maryland, Halley earned her Bachelor's degree in Jazz Studies from Indiana University and Master's in Arts Administration from Florida State University.
As leader of her own "Halley Shoenberg Jazz Quartet" and other ensembles, most recently adding the "Halley's Hot Gumbo Swingtet," her concert and festival presentations have won the hearts of jazz enthusiasts who demand master musicianship.
Past performances include the "Halley Shoenberg Octet" in concert at Strathmore Mansion and her bands at DC area festivals such as the Bethesda, MD Fine Arts Festival, Alexandria, VA Jazz Festival and the Silver Spring Swings concert series. As the clarinet soloist in DC's premiere swing band, Halley is regularly featured on classic swing masterpieces and evening-long Artie Shaw and Benny Goodman tributes. She has played at major venues including the Kennedy Center, National Parks, at the Shenandoah Valley Music Festival and Blues Alley. Her Trio was featured in Worchester, MA at a live performance and broadcast for WICN Radio.
Benny Goodman, Artie Shaw, Buddy DeFranco, and Ken Peplowski influence her clarinet playing. Her saxophone style pays respect to Art Pepper, Lee Konitz, Charlie Parker, Lester Young and Stan Getz. Halley is also inspired by the legendary music of Louis Armstrong, Ella Fitzgerald, Nat King Cole and the Count Basie, Duke Ellington and Stan Kenton big bands.
Having intensely studied classical and jazz, she currently teaches private lessons to young clarinet and saxophone students in addition to performing. At Indiana University's School of Music Halley studied with David Baker, Dominic Spera, James Campbell, Tom Walsh, Lynn Baker, J.B. Dyas and many more outstanding musician-teachers of performance, history, and composition. After graduation, Shoenberg served as intern in the Smithsonian's jazz history department. During her arts administration graduate program at Florida State University, she performed and toured with the school's award-winning jazz ensemble and interned at Carnegie Hall in New York City.
Based in Washington DC, her performances on saxophone in Rhapsody in Blue and the West Side Story Suite have been heard on tour in Germany with the Washington Symphony Orchestra. She has also performed traditional "Dixieland" jazz with the Potomac River Jazz Club's Federal Focus Jazz Band, which participated in Chilliwack Jazz Festival in British Columbia and at the French Quarter Jazz Festival in New Orleans. Shoenberg has performed in New York, at the Boswell Sisters Centennial in New Orleans and at the Women in Jazz Festival at the Kennedy Center.
In addition to the Halley Shoenberg Jazz Octet, Quartet and Trio, Halley performs and has recorded with the Tom Cunningham (swing) Orchestra, the James Bazen (modern-style) Big Band, the La Salle (1920's and 30's jazz) Dance Orchestra, the Bitter Dose (gypsy jazz) Combo, Craig Gildner and Blue Sky 5, and Shannon Gunn and the Bullettes.